Well - almost... and not the type you might think about either!
This year I have decided to try something new and I have entered
Lori's Bead Soup Blog Party
. Sounds strange? That's what I thought too :)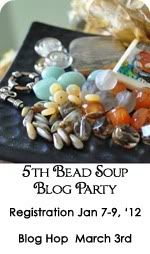 The idea is quite simple: artists from everywhere (and I mean - everywhere!) entered and 200 lucky participants have been paired... they send each other a 'soup' of beads and design a piece which we all showcase on March 3rd. Yes, that's exactly 4 weeks away - scarry...
I have been lucky enough to be picked by the randomizer and Lori did a tremendous work pairing 200 individuals... thanks, Lori!
My package has arrived just a couple of days ago and I'll find some time this weekend to take pictures (had lots of insipration already).
In the meantime - I am reading other people's blogs: I probably won't be able to hop onto everyone's blog, but I sure am trying! And I've made already some new friends throught the FB group Lori put together...
Stay tuned!